Minnesota Wild: Matt Boldy Is Easily a 2022 Calder Trophy Candidate
In this piece, we're going to talk about a very promising Minnesota Wild prospect, that prospect being former 2019 1st round pick, Matt Boldy.
A lot of fans had a similar reaction during the 2019 draft when the Wild drafted Boldy over guys such as Spencer Knight and Cole Caufield but in that moment, there was a very specific reason that the Minnesota Wild had taken Boldy over the other guys.
Following the 2019 NHL draft and coming off of a 81 point season with the US NTDP, Boldy was off to continue his hockey education with the Boston College Eagles and he may have started out slow but in a developmental way, he made great strides to set himself up for future success at the NCAA level, tallying 26 points in 31 games as a freshman is actually pretty good.
Boldy soared into his sophomore season determined to work for more and that's exactly what he got scoring 31 points in only 22 games. After his sophomore season had come and gone, it was announced that the Minnesota Wild had reached out to their promising young prospect about signing his ELC and the sides ultimately came to an agreement.
https://twitter.com/mnwild/status/1377059922010079233
With Boldy beginning his professional career, he would start out being assigned to the Iowa Wild for his next step in development and that had proved to be a key piece in his development as Boldy 18 points in 14 AHL games and was apart of the 'black aces' that were recalled to Minnesota as the Wild prepared for their playoff run.
Boldy unfortunately wouldn't see game time but would come close due to injuries to Marcus Foligno and Nick Bonino but would show he was indeed ready as he had taken pre-game warmups with the team sporting his familiar number 12.
Matt Boldy comes into the 21-22 season as a good Calder Trophy candidate because of the fact that a few of the top picks from this year NHL Entry Draft have opted to return to college thus opening the door for young players such as Boldy and with potential roster spots to be had on the Wild, Boldy will have his chance to not only capture the Calder Trophy as the leagues best rookie but also hold the Minnesota Wild as having back-to-back Calder Trophy winners.
Final Thoughts 
It ultimately remains to be seen if Boldy will capture one of the very few roster spots up for grabs but if one thing is for certain, it is that Boldy will make an impact no matter where he plays.
*Stats found at eliteprospects.com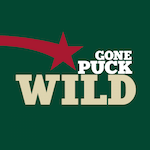 Want your voice heard? Join the Gone Puck Wild team!
Write for us!