Should the Minnesota Wild Re-Sign Pontus Aberg?
As a former Edmonton Oilers writer, I wanted to ease in to my new role with GonePuckWild. What better way to do that than to talk about a player I'm very familiar with, Pontus Aberg.
Originally drafted by the Nashville Predators at 37th overall in 2012, Aberg's suitcase has been constantly packed since 2018. At the 2018 trade deadline Pontus Aberg found himself traded to the Edmonton Oilers for Mark Letestu. In 16 games with Edmonton he registered 8 points. At the start of the 2018-2019 season, Edmonton put him on waivers. The Anaheim Ducks ended up claiming the winger to help with their lack of depth scoring.
After posting some pretty good numbers with the Ducks (19 points in 37 games) he was again traded. this time he ended up with the Minnesota Wild in a very curios move. In Minnesota his offense suddenly dried up, posting only 1 goal and 5 assists in 22 games. So after all that movement, could Aberg be on his way out of Minnesota as well?
Character Concerns
Pontus Aberg has a character problem. He struggles with professionalism and Maturity issues. There have been a couple of recent incidents over the past 2 seasons that have hurt his reputation. The incident I want to talk about comes from his time in Edmonton.
Aberg was thriving in Edmonton on a top 6 role, he had 7 points in 4 games and he was starting to look like a real player. then, at a road game against Florida, Aberg could not be found anywhere on the ice. Then the official team release on Aberg came out:
"He came out for reasons beyond his play," McLellan said when asked about the seriousness of Aberg's infraction. "It's serious. The coaching staff isn't pleased, the organization isn't pleased and I'm sure his teammates aren't pleased but players do make some mistakes. There are reasons for missing sometimes that you have to go and dig and find out why, and that's already been done, and we're ready to move on." – Todd McLellan
While it's never been officially confirmed, what seems like the general understanding from the media is that he missed a practice. It's also speculated as to whether or not alcohol is one of the causes of missing that practice
Inconsistency in Anaheim
To see what I mean by inconsistency all we have to do is look at how Aberg's time in Anaheim started, and ended.
When Aberg first came to the Ducks, he didn't start well. In his first 5 games he went scoreless and was a -3 up to that point. during that 5 game stretch (after one game) he ended up demoted to the AHL, and still, upon return, did little to light the lamp.
Then, a 2 goal night against San Jose including a sensational goal, undressing Joakim Ryan, jump started his season.
He became a regular contributor, scoring the bulk of his 19 points with the Ducks in his next 24 games. After that stretch, once again he struggled, mightily. This period of bad play coincides perfectly with Anaheim's 12 game losing streak, wherein he went completely scoreless and was a -12. In the middle of that streak he found himself scratched for 4 straight games. He found himself deep in then coach Randy Carlyle's doghouse. He didn't ever make it out in Anaheim
Due to his tendency of being a perimeter player and his unwillingness to attack the middle of the ice (outside of the goal shown above) he found himself on his way out of Anaheim. He was traded on January 16th, 2019 for Jordan Kloos, a player out of U. of Minnesota. Kloos so far this season in the AHL has 15 points in 25 games for the San Diego Gulls.
Offensive Drop Off in Minnesota
To say Pontus Aberg struggled with the Minnesota Wild this season is a big understatement. In every way Aberg regressed in Minnesota. He went from .51 points per game to .27, his Fenwick ratio tanked from 50.6 to 48.1. His Fenwick ratio relative to his teammates went from 4.9%, a positive impact to his teammates, to -4.5%. He came to Minnesota to add depth scoring, and failed at that in a big way.
Again, the inconsistency within Aberg's game soared to new heights. going from 19 points in 37 games with the Ducks, to only 6 in 22 games with the Wild. While it isn't surprising considering his analytic stats, it is disappointing. He possesses top end skill and shows flashes of it everywhere he goes, but he cannot show any consistency at all. Due to this he falls out of grace wherever he goes. He hurts the Wild roster scoring wise, and he hurts the Wild analytically as well. He is not a player that warrants a full-time roster spot as of right now.
Wrap Up
So should the Minnesota Wild re-sign Aberg? Probably not. Aberg is a fringe player at best and an inconsistent mess at worst. He can play well in bursts but the peaks and valleys in his game severely damage his ability as a regular contributor. The only way I think he's a valuable piece is if he starts in the AHL next year and is one of the first call up options for the club.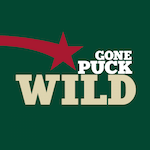 Want your voice heard? Join the Gone Puck Wild team!
Write for us!
If Paul Fenton believes Aberg is a regular NHL player and has him on the third line next year, that's a problem. there will be more proven third line players out there for 2-3 million per season, which Minnesota has the cap room for. I would much rather go out and get a Michael Grabner or Richard Panik type player that can consistently contribute 35-40 points. That way you have players that can step in to the top 6 if need be in case Fiala or Donato struggle out of the gate next year.